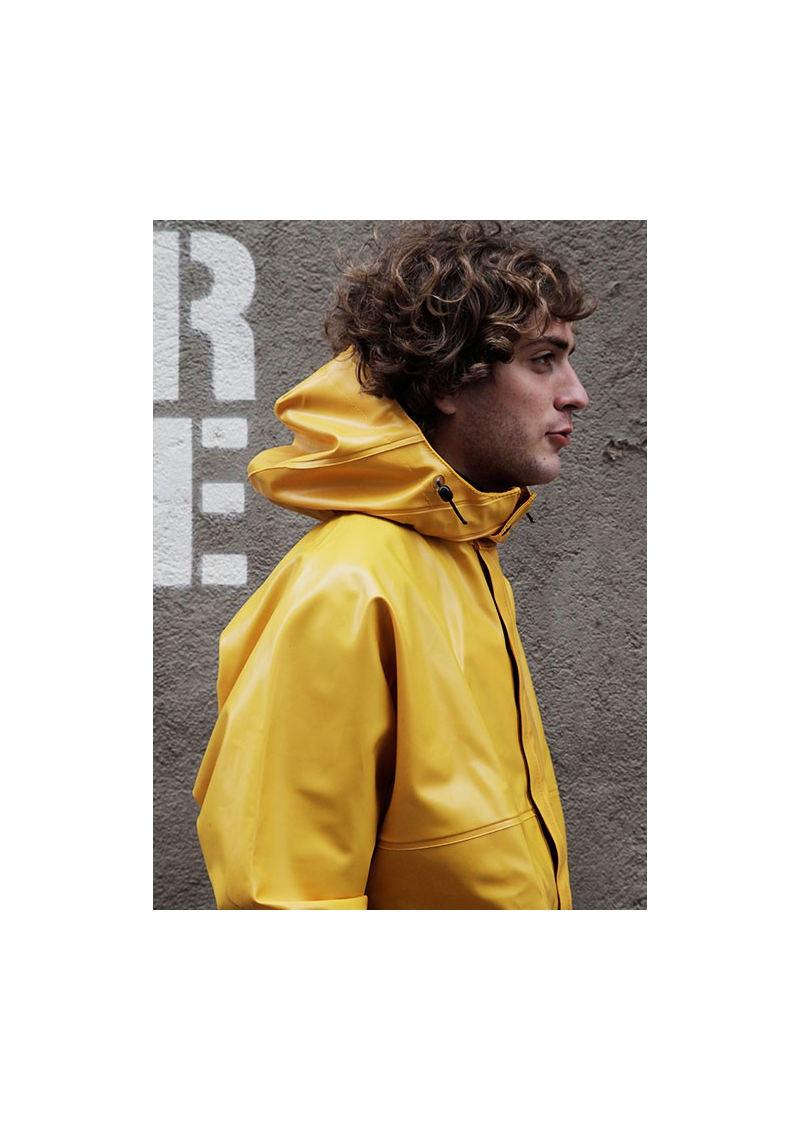  
 
The Original Yellow Raincoat
The traditional Breton yellow raincoat, the emblematic Rosbras Jacket, made in France by by Guy Cotten.
Unisex, kimono cut for ease of movement.
Magic hood that follows your head movements. 
Cap-Coz fabric: Durability and flexibility thanks to the quality of the plasticizers used in the thick coating on one side. Interior jersey textile for comfort.
High frequency welded seams.
Heavy duty zip under double self grip flap.
Waterproof pockets with self grip double flap.
Adjustable elasticated cuffs.
The Guy Cotten sizes are generous, if you are hesitating between sizes, we recommend that you choose one below your regular size for a perfect fit. See size guide below for exact measurements or contact us for further assistance.
Please note that every raincoat is made on demand and recquires about 8 to 10 weeks of manufacturing.
The Rosbras Jacket by Guy Cotten.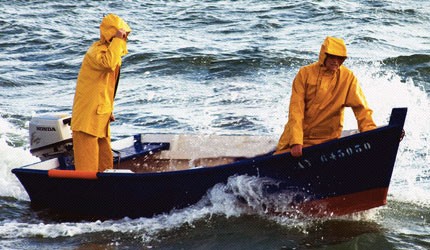 Guy Cotten
The go-to manufacturer of the marine world, a family-run business based in Brittany.
For over 50 years Guy Cotten has been making foul-weather gear and high-quality marine clothing. With their headquarters in Brittany, all products are made in their own factory in order to maintain close quality control. The company employs over 300 people but it remains, to this day, a family-run business which continues its innovations and experiments in search of comfort, durability, and safety for men at sea.
Guy Cotten's idea of sustainable development in protective clothing is summed up in 2 words: efficiency and durability. They attach great importance to these values, a factor that develops loyalty from the people their customers. At the end, it is also a more economical approach than using "disposable" clothing. Guy Cotten provides an excellent after sales service, which means less renewal, fewer raw materials consumed, and therefore less waste to treat – a very simple gesture which has an immediate impact on the future of our earth.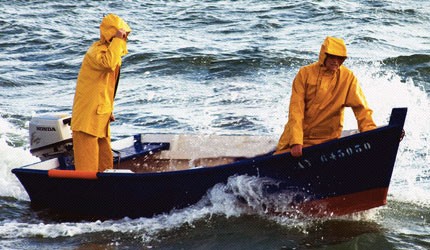 GUY COTTEN
Made in Cap-Coz fabric, high durability and comfortable jersey lining.
Thick coating 480g. The best-known product from Guy Cotten.
Totally windproof and waterproof.
Adjustable hood that allows good panoramic vision thanks to the "Magic" revolving system.
High frequency welded seams. Heavy duty nylon zip with Velcro double flap and press-studs.
2 waterproof outer pockets. Adjustable elasticated cuffs.  The hood that moves with your head; even better it follows all the movements: up, down, right, left and with the adjustable elasticated cords, it allows maximum freedom. You may even forget it is there!
The hood allows a clear field of vision and stops the water splashing the sides of your face. The fittings keep it firmly in place even in the strongest winds. As a professional garment, there is room under the hood for a safety helmet. Carefully fasten and adjust your garment, tighten both sides of the hood and the protective chin tab, using the elasticated cords and locking studs. Adjust the back tie and store it in its casing. This Magic Hood gives you even better performance, more safety and more comfort!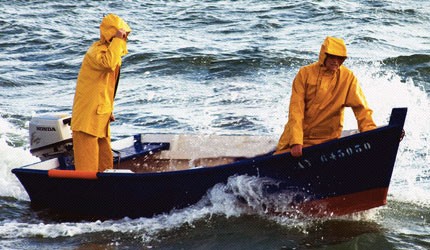 GUY COTTEN
Cap-Coz jersey is pleasant to wear, gives high thermal insulation and reduces condensation. Materials: Support Jersey Polyester 110g/m2. Coating on one side PVC 370g/m2. Total weight 480g/m2.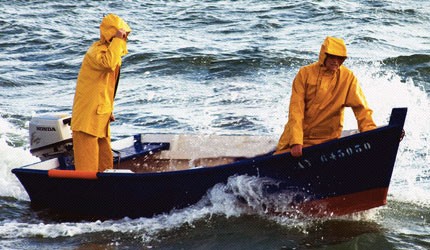 GUY COTTEN
Guy Cotten garments are a generous size. We recommend you order the size below your normal size.
Size Guide GUY COTTEN
ADULT SIZES
| | | |
| --- | --- | --- |
| | | |
| | | |
| | | |
| | | |
| | | |
| | | 95 kg and more |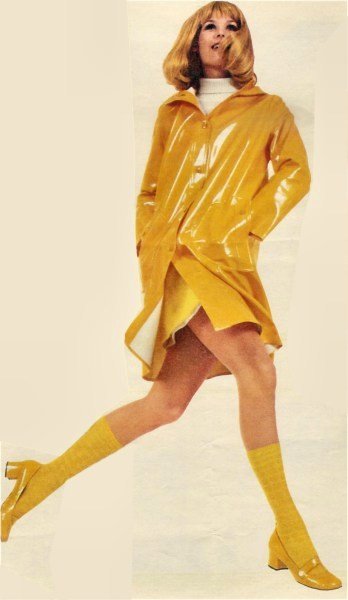 The origins of the yellow raincoat go back to the history of Breton fishermen. This garment, whose color makes it possible to quickly spot a man overboard, protects the sailor and keeps him warm and dry. The first raincoats were very impractical, made of oil coated cotton cloth which was heavy, uncomfortable and of poor quality, but then there was Guy Cotten… In 1964, he settles in the port of Concarneau in Brittany and launches his own workshop of fishing clothing. In 1966, he creates the Rosbras (in tribute to the sailing school Rosbras-Brigneau), a light, durable and practical jacket with zipper and double Velcro which soon became THE reference of fishing jackets.
The jacket would last 3 times longer than other models and the gain in comfort was incredible, which explains why it eventually seduced people outside its traditional fishing context, first in Brittany and shortly thereafter, in the entire world.
And so, the yellow fishing coat soon became the emblematic, the number one reference of raincoats, and by the end of the 60's, it had become a fashion phenomenon that would conquer the 70's and last to this day.
Ready-to-wear and high fashion continuously reinterpret the design, playing with materials and color schemes, such as Yves Saint Laurent, Mary Quant, Pierre Cardin, Courrèges, Thierry Mugler and Jean-Paul Gaultier.
The authentic yellow raincoat of Guy Cotten will remain a colorful, practical and tireless piece of your wardrobe, man or woman.