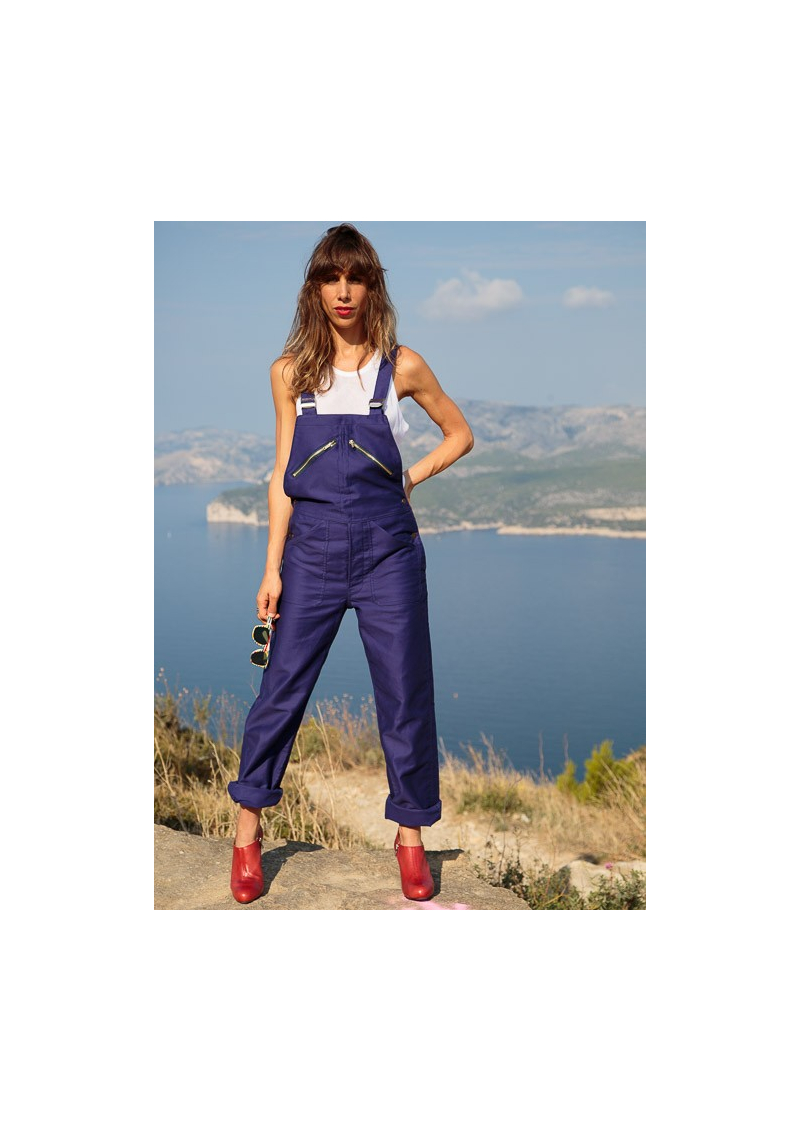  
 
The Work Overalls in Coated Cotton
These are the first and original overalls invented by Adolphe Lafont in 1844, in solid moleskin cotton.
Gender: unisex.
Material: moleskin 100% - cotton treated Sanfor® 410g

Size advice: the overalls are cut to fit the body snuggly; we recommend you choose the size above your normal one.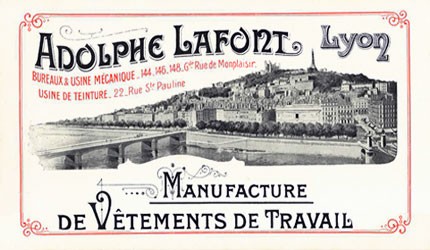 Lafont
Since 1844 LAFONT has been an integral part of French workwear, providing clothing for métiers as varied as carpentery, stonemasonry and car mechanics.  The brand specializes in the provision of safe and durable, yet comfortable and stylish workwear, to companies and craftsmen across a wide range of industries.
Dedicated quality control teams carry out numerous controls at every key stage of the manufacturing process, from the design stage (pattern making) to tailoring of the finished product.
Lafont retains the undisputed paternity of the authentic working blue.
Hijacked early on by aristocrats who wore LAFONT's overalls while pruning their rosebushes, or hip New York freaks from the 70s, or Sophie Marceau in "La Boum", or Coluche onstage, Lafont is the happy owner of timeless cuts patterns. "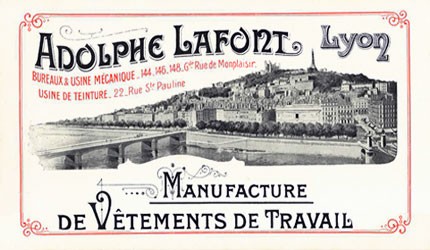 LAFONT
Removable, elasticated braces with metal buckles.
2 slanted bib pockets with visible brass zippers; 1 pen pocket in the middle of the bib.
Button down fly front.
2 positions for side closings with rivet buttons.
2 lower pockets.
1 ruler pocket.
1 back pocket with visible brass zipper and hammer holder - Double stitched seams throughout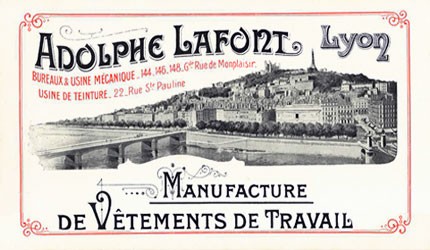 LAFONT
Fabric: moleskin 100% - cotton treated Sanfor® 410g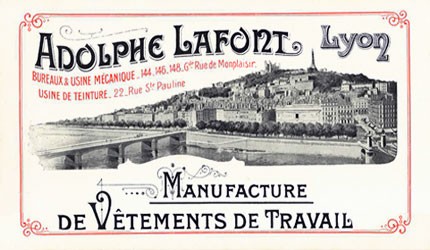 LAFONT SIZE GUIDE
TROUSERS, OVERALLS, JACKETS
 Size 
Point Lafont  
universal size
Chest
waist circumference (cm)

 hips circumference (cm)

36
0 
XS

81-84

69-72

 

85-88

38
0
XS
85-88
73-76
89-92
40
1
S
89-92
77-80
93-96
42
1
S
93-96
81-84
97-100
44
2
M
97-100
85-88
101-104
46
2
M
101-104
89-92
105-108
48
3
L
105-108
93-96
109-112
50
3
L
109-112
97-100
113-116
52
4
XL
113-116
101-104
117-120
54
4
XL
117-120
105-108
121-124
56
5
XXL
121-124
109-112
125-128
58
5
XXL
125-128
113-116
129-132
60
6
XXXL
129-132
117-120
133-136
62
6
XXXL
133-136
121-124
137-140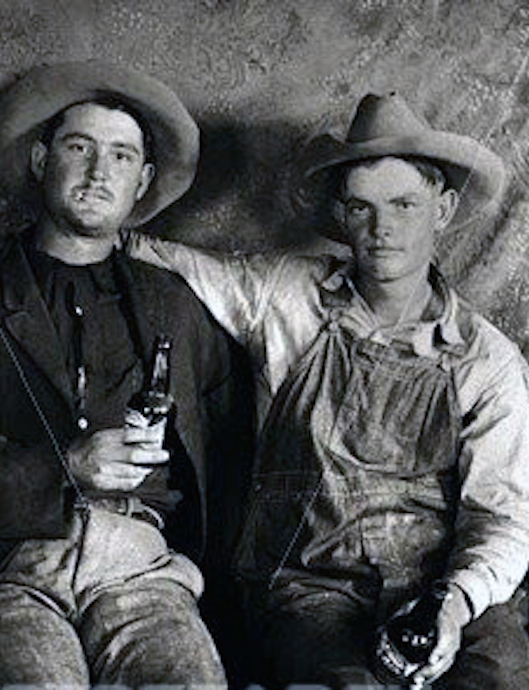 Adolphe Lafont invented the overalls for his father-in-law who was a carpenter. He revised and improved the design continuously, adding a ruler pocket at the belt, and the bib held by the braces… Levi Strauss would later draw inspiration from Lafont in creating the American workwear.
The Lafont overalls first became common workwear in the French automobile factories at the end of the 19th century, as they were a very practical work garment and in addition, they were provided for free to the workers by the employers. Its French name "salopette" comes from "sale" or more precisely "salope", which meant dirty in old French. So, no need to worry about getting dirty in these comfortable, indestructible and easy to wash overalls, as that is what they were made for.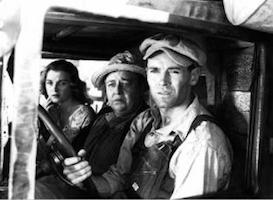 The overalls are regularly revisited and updated by the greatest fashion designers (Jean-Paul Gaultier, Isabelle Marant, Chloé…) and today, they represent a timeless basic.
Immortalized by Charlie Chaplin in his film "Modern Times" and by John Steinbeck in "Grapes of Wrath", adapted to the cinema by John Ford, the work overalls would soon be worn by the general public outside the factories. Between the early 50's and the late 80's, the Lafont overalls would be modernized and reproduced in multiple colours.
That was the start of their great success story outside the work sphere, as they entered the world of fashion. As the overalls invaded the pages of VOGUE in the 60's/70's, they were quickly adopted by fashion gurus and reinterpreted by ready-to-wear labels. No cool hippie would go without them, no girl who wouldn't play with the low neck and the glamorous outline of her lower back in a sexy tomboy style.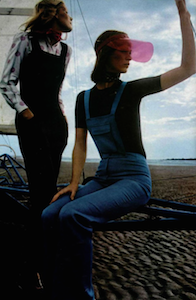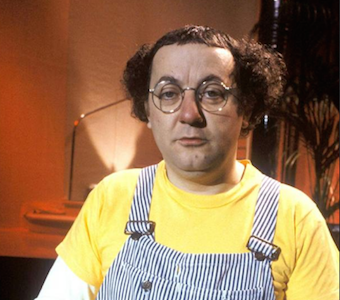 The popularity of the overalls reached its peak in the 80's, when Sophie Marceau wore them in the film "La Boum" as well as the French comedian, Coluche, and his friends of Le Splendid. Then, the overalls were adopted collectively and across the Atlantic, they took the US by storm.
The overalls in moleskin are the original model. The solid fabric gives it a reliable fit which is very flattering as it structures the silhouette.
Having a pair of overalls is a must-have for comfort and style. Having the Lafont overalls, is a promise of never going wrong.