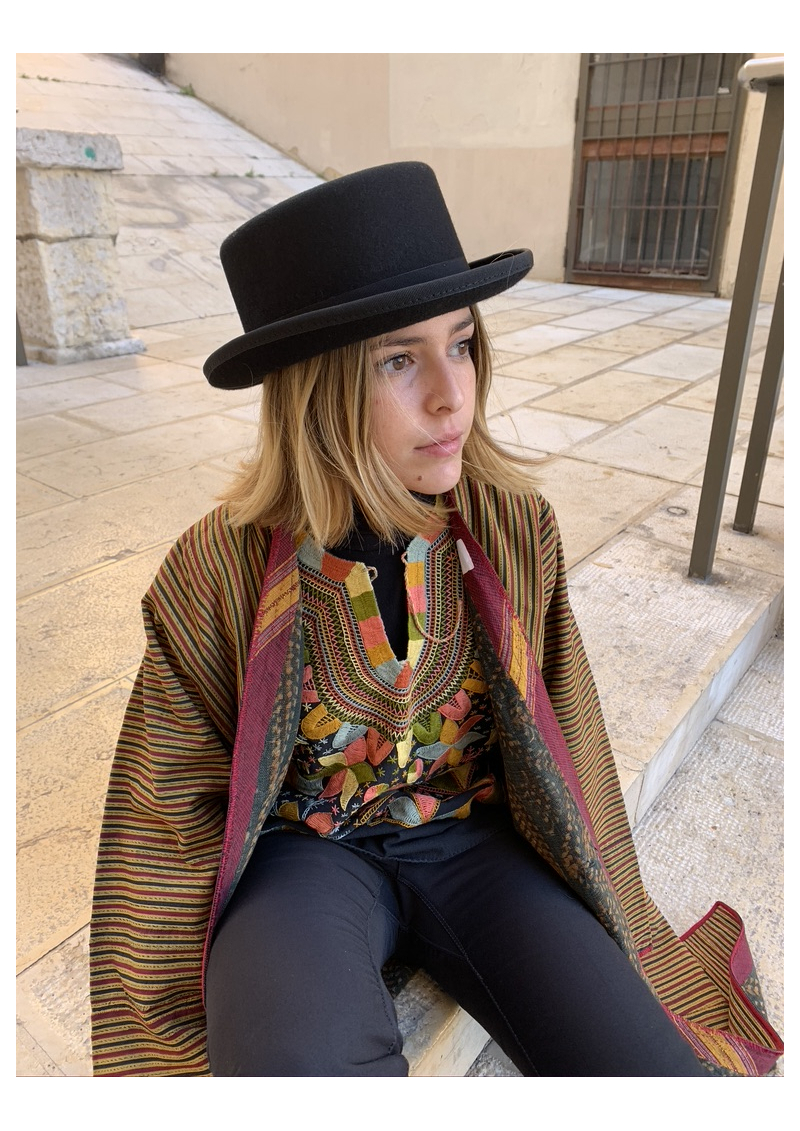  
 
The Genuine Dressage Hat
The width for a hat is 26cm with a height of 10cm.
The perfect and genuine dressage hat, for horseback riders or steampunk fans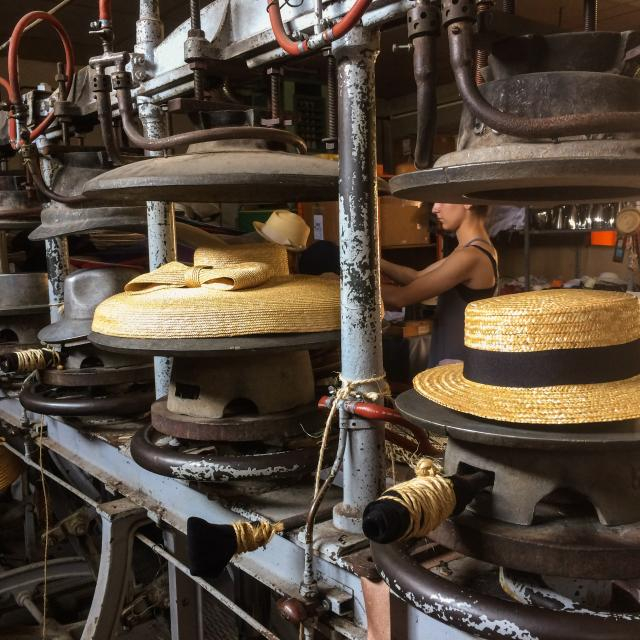 Chapellerie française du patrimoine
France is a land of regions with strong identities, which still has a strong living folklore tradition and still has devoted fans, also in the hat-making industry, which has miraculously preserved ancestral know-how, tools and machines from another time.
The Maison Coustillères selected by deTOUJOURS is a family hat shop, "Entreprise du Patrimoine Vivant", established since the beginning of the 20th century, in a small village in the Tarn and Garonne.  The site is historically known for its hat production since 1798. a woman who, as a shepherdess at the time, had the idea of braiding strands of straw littering the fields. She quickly spread her idea and the first hat houses were born in this village. In this village, there were as many as twenty-five factories and more than two thousand workers at the height of activity.
In 1920, the family history began with Marius who created his own hat shop working exclusively with straw, then his son Louis and finally his grandson Jean-Claude actively developed this heritage by incorporating wool labour. While each region developed its own hat, this specialized craftsmanship was gathered around these craftsmen who are the only ones able to pursue the production of these hats, according to the best traditions, for the lovers of history and style who are the faithful followers of TOUJOURS.com.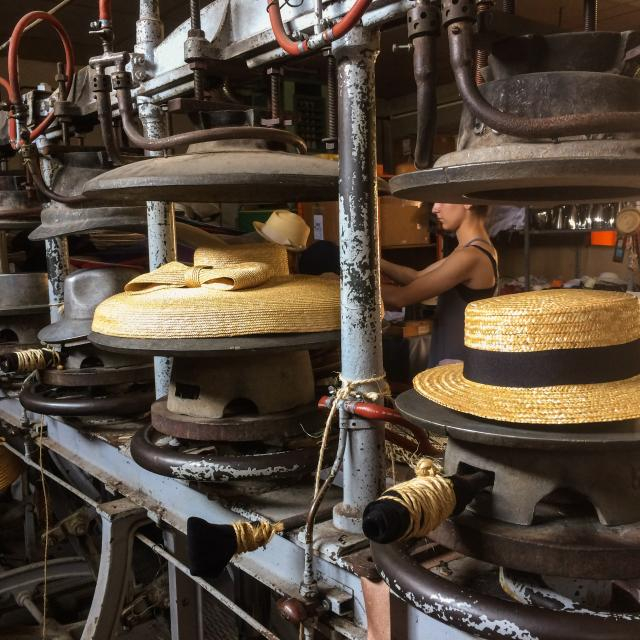 The felt hat is a delicate garment. Our hatters recommend that you store your hat on the top of the cap, upside down. While this technique may be surprising, it allows your favorite hat to remain in shape. In order to protect it from damage and dust, you can keep it in a box, or if not possible, on a coat rack or coat hook. 
When wearing your hat, certain elements can damage it ( sweat, for exemple, or makeup). A simple soft brush, hat or garment brush will be enough to restore your hat. However, remember to always brush it in an counter-clockwise direction. For light marks, you can simply use a very soft sponge slightly humidified. As a general rule, avoid any contact with liquid cleaners, and of course, do not wash your hat in the washing machine. In case of major cleaning, prefer dry cleaning from your laundry cleaner. 
Finally, we advise you to waterproof your hat by using an anti rain spray for hats and clothes. Spray this spray about 30 cms away and wait for it to dry before wearing your hat.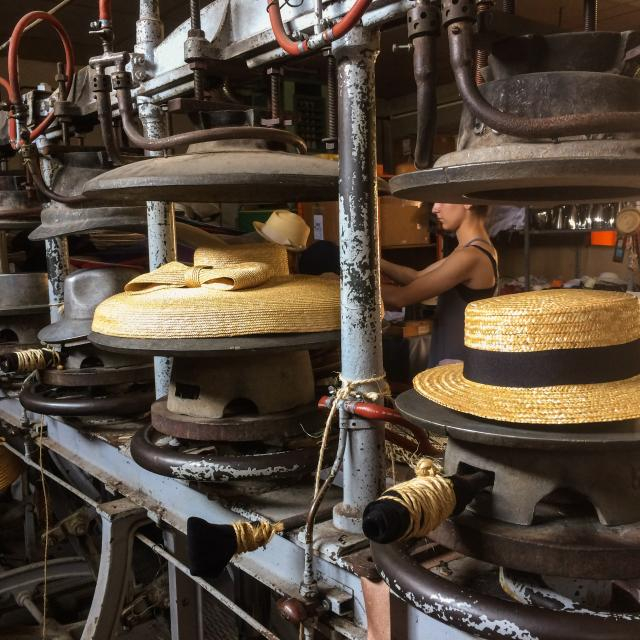 From size 54 to size 62 
| | | | | |
| --- | --- | --- | --- | --- |
| SIZE | S | M | L | XL |
| Size in cm |  54 - 55 | 56 - 57  |  58 - 59  | 60 - 61 |
|  US size |  6.3/4 - 6.7/8 |  7 - 7.1/8 |  7.1/4 - 7.3/8 |  7.1/2 - 7.5/8 |
|  UK size |  21 - 21.1/2 |  22 - 22.1/2  |  22.3/4 - 23 |  23.1/2 -24 |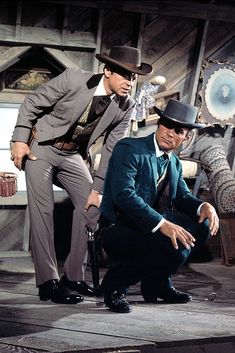 Seen a thousand times on the heads of the master figures of rock, this hat is nowadays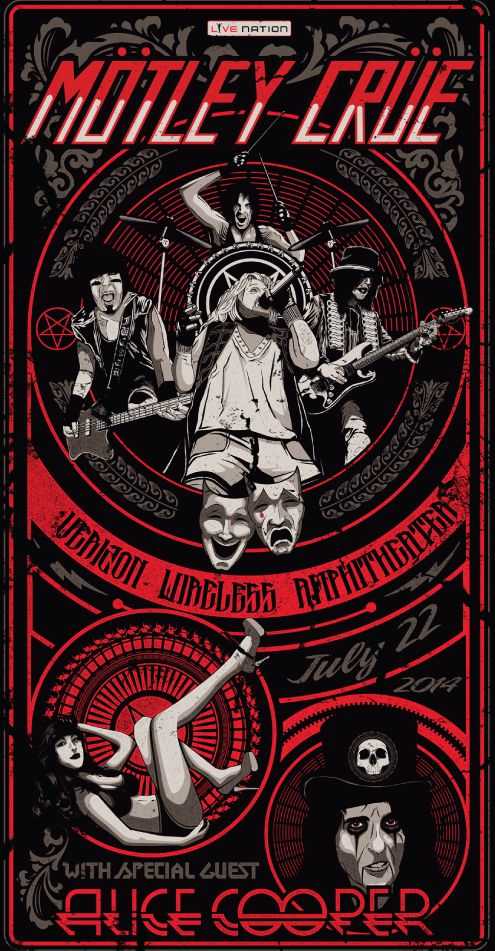 moving on with its style that is infused with steampunk style, sometimes baroque aesthetics, a perfect accessory for the vanities, and other disturbing garments of a fantasized English 19th century.  Wearing this hat, we perceive the influences of the Victorian era, the distant reminiscence of a dark Dracula, the troubling prose of Edgar Allan Poe or even the strange aesthetics of Tim Burton.
Jules Verne's fantastic adventures join this dark imaginary world, and we begin to dream of a flight in an dirigible, or the extraordinary novels of Mary Shelley and H. G. Wells. From the intriguing scenes in Delicatessen (J.-P. Jeunet and M. Caro) to the clashes in Wild Wild West, this hat infuses in all pop culture and becomes omnipresent, if we pay attention, so much so that one almost forgets its chic anchoring from horseback riding. 
It had already begun its incursion out of the riding schools, which appeared in the city centres at the beginning of the 20th century, adopted by the most elegant gentleman-riders, and kept in the city. The gentlemen (and women) ride on rue de Suresnes or rue Chalgrin in Paris, but also in Neuilly, or in the heart of Fontainebleau. 
In this way, a lasting permeability is created between the sporty equestrian wardrobe and the upper-class urban wardrobe.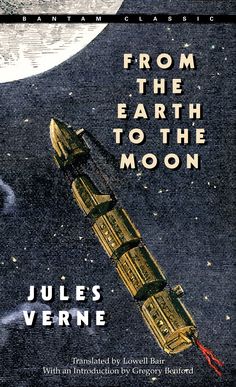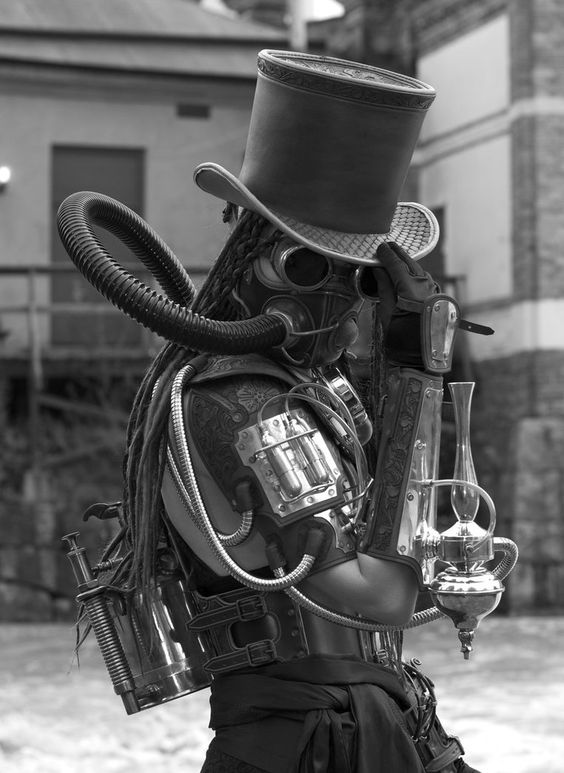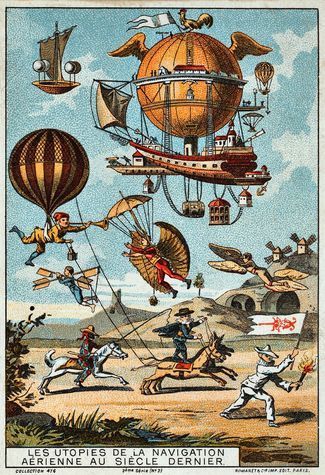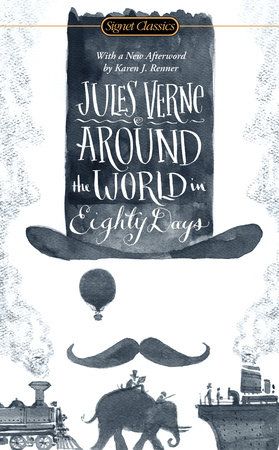 The Hermès company is a historical example of this sporting taste being applied to the urban cloakroom. Since the end of the 19th century, the house has been creating particularly sophisticated accessories for customers who love equestrian sport but are not riders themselves.
The elegant appearance of the dressage hat makes it an accessory of distinction. Early on, it was diverted from the horse-riding arena to fashion, and not only at Hermès, but it will continue to be a permanent element that is always reinvented. In 2019, Maria Grazia Chiuri created a spectacular show called Diorodéo, in the historic Chantilly stables. The equestrian inspiration here takes the appearance of feminine emancipation and the revival of military lines. Harnesses match with puffy petticoats, and tailored hats with equestrian bombshells. The dressage hat has always been at Chanel, Alexander McQueen or Gucci for example.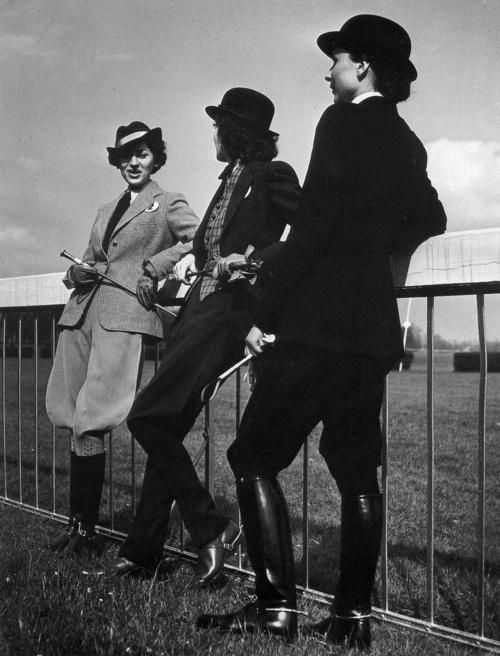 At TOUJOURS, it is displayed in its original design, inherited from the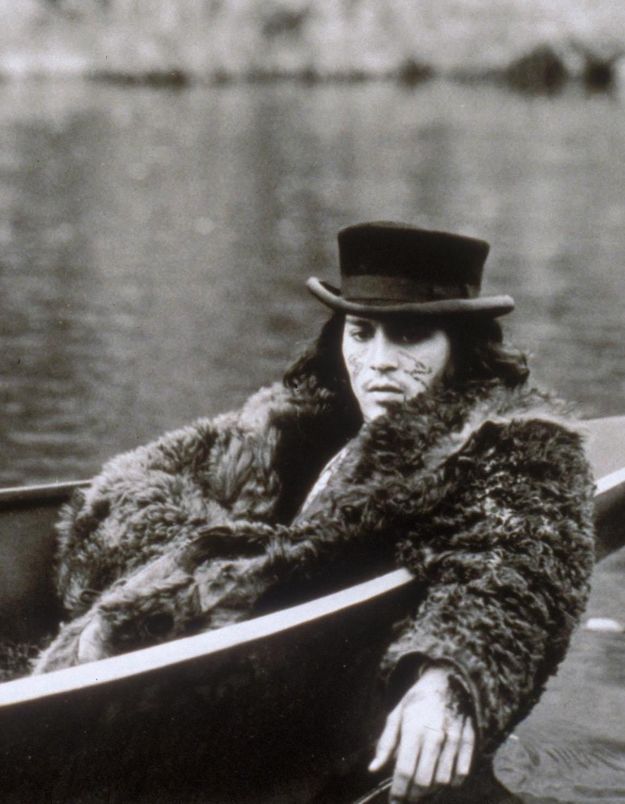 horse show podiums and the eternal muse of the fashion catwalks.
The classical horse riding (or Haute Equitation) takes its roots in the south of Europe, first in Spain, since the 12th century, which marks the style of its design, then in Italy. Following his victory over French soldiers, the King of Spain crossed the borders and occupied the throne of the Kingdom of the Two Sicilies, in Naples. In 1532, the first military school opened in Naples. Noblemen, officers and other officials came to learn how to ride horses. A different way of riding a horse was taught, where steadiness and gracefulness became the key words. The movements became more flexible and the riders were trained to master every figure. 
Gradually, this way of riding became popular in schools and academies, which spread all over Europe : in England, Denmark, Sweden and Austria. This formal reference uniform, including hats, is thus spreading everywhere. 
In France, the first glorious hours of Haute Equitation were those of the Royal Stables of Versailles. It was there that the foundations and principles of French-style riding were established. Between impulse, constancy and suppleness, the French horsemen tried their best to discipline their movements, whether they were military or non-military, but the elegance of their dress was an indispensable element. 
The French Revolution confirmed the academies system ending, which only reappeared in 1825, with Charles X. He created a new Royal School of Cavalry, also called the Cadre Noir, this eponymous name refers to the colour that the riders wore. During the 19th and 20th centuries, the French army was being modernized and horses were abandoned and substitute with armoured vehicles. Since then, the horse has remained a symbol of French equestrian greatness. 
The so-called "postillon" hat, here presented by deTOUJOURS, is a central element of the coded and ruled dressage uniform. Worn at events and competitions, it traditionally enhances a disciplined hairstyle and always attached hairstyle for women. It is worn in association with the frack, the historic dressage jacket, under which a white shirt is worn.