 
The Original Claude Windbreaker from K-Way
The original Claude windbreaker in nylon, created in 1965 by K-Way.
Sizes: Children from 4 to 14 years old, adults from S to L.
Generous fit, if you are hesitating between sizes or would like a slimmer fit, we recommend that you choose a size below your regular size.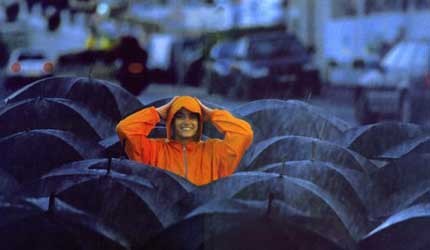 K-Way
Paris – 1965:  Léon-Claude Duhamel, having grown up in the textile industry, observes attentively as people rush by in soaking wet clothes. It is in these elements that the K-WAY is born: a lightweight, unisex nylon windbreaker, folded into a small hip bag.
Soon everyone begins to look to the practical jacket with enthusiasm, happy to leave the old umbrella at home. In the first year alone more than 250,000 pieces are sold. Perfected with time in terms of practicality and breathability, in 1970 the presentation of the new seasonal collection was met with great success.  The K-WAY grew so widely popular that it became a generic term. 
With it's worldwide success, K-WAY contributed to the modernization of the textile industry in France.  However, a factory fire in 1992 shut down production until an Italian company took over the brand, ever faithful to its classic allure, and was responsible for their comeback.  The K-WAY jackets represented by DETOUJOURS are the cult models – as practical and elegant as the originals from the 60s and 70s.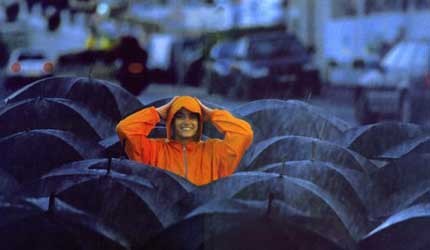 K-WAY
Windbreaker, the original K-Way created in 1965.
Waterproof. Heat-sealed taped seams.
The Claude is a classic lightweight full zip K-Way mac.
Pac-a-way side pocket.
Fixed hood with adjustable drawstrings. K-Way logo on the front.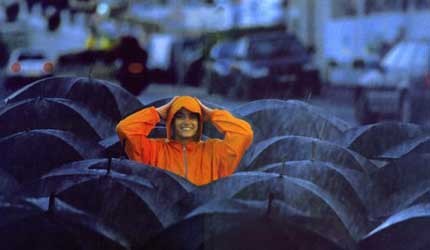 K-WAY
Nylon, washable at 30C, folds into its kangaroo pouch.
Waterproof, strong, breathable, easy to fold and to look after.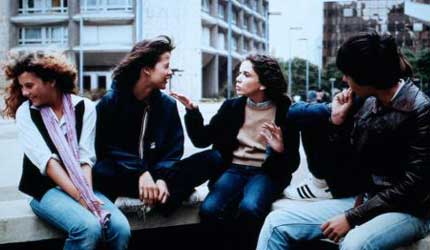 Here is Claude, the very first waterproof windbreaker designed by K-Way in 1965. With its lightweight material, its beautiful colors and tricolor zip, foldable into a side-pocket, this jacket is the perfect solution for an uncertain weather prognosis.
The Claude model is the essence of the brand; first because it was at the time a very modern and practical solution to rain and wind proposed to all types of hikers. Two, because it is THE unmistakable reference which everyone would follow.
Today, it has become a fashion accessory that you wear under a jacket or a coat, as a light protection from the morning cold or as a cool rain jacket, but it still remains the perfect ally during hikes.
Its classic shape has not changed since its creation and provides a perfectly dosed hipster look, right between Old France and California cool who have both made its reputation.
 Rain boots, penny loafers or rollerblades, our K-Way mac goes with everything. A practical essential and the archetype of cool in the French film "La Boum" with Sophie Marceau.