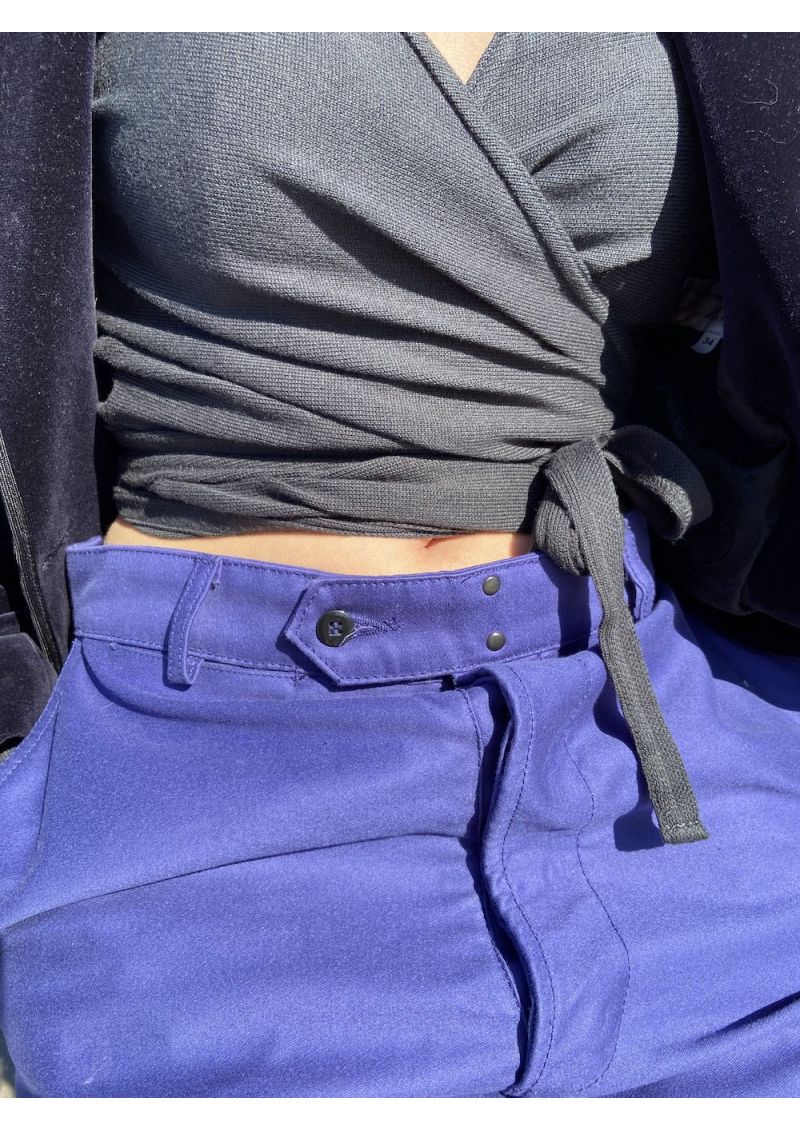  
 
The genuine cotton coated Pants
Authentic moleskin trousers from Adolphe Lafont. Original pattern since 1896.
These ultra-resistant moleskin trousers have all the essential elements of good work wear :
Straight fit
Straight 5-passenger belt closed by a steel hook and a button
Button fly
Reinforced inside crotch
1 gusset pocket
2 Italian pockets
1 ruler pocket
1 back pocket with button fastening 
Double needle assembly
Inseam: 82 cm
Moleskine 100% cotton, Sanfor®-treated - 410 g/m² - The Sanfor® textile treatment ensures less than 3% shrinkage in the wash: the work trousers will not move. 
Two colors :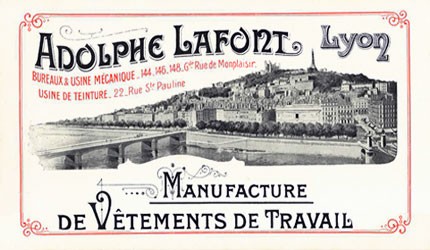 Lafont
Since 1844 LAFONT has been an integral part of French workwear, providing clothing for métiers as varied as carpentery, stonemasonry and car mechanics.  The brand specializes in the provision of safe and durable, yet comfortable and stylish workwear, to companies and craftsmen across a wide range of industries.
Dedicated quality control teams carry out numerous controls at every key stage of the manufacturing process, from the design stage (pattern making) to tailoring of the finished product.
Lafont retains the undisputed paternity of the authentic working blue.
Hijacked early on by aristocrats who wore LAFONT's overalls while pruning their rosebushes, or hip New York freaks from the 70s, or Sophie Marceau in "La Boum", or Coluche onstage, Lafont is the happy owner of timeless cuts patterns. "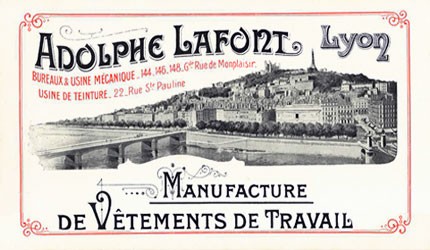 Just like jeans, the coated cotton is known to be strong and become more beautiful with age, with the advantage of being warm and suitable for winter and summer. Moleskin is the material of reference for French work-wear.
The name moleskin comes from the English word "mole skin" in reference to the feel of the material.
 As the material was woven very tightly and had short "hairs", the molten steel slid over it, protecting the workers from being splashed. Moleskin was used in the making of their trousers but also aprons. the fabric is from the fustian family, tightly woven and made of brushed cotton giving it a fluffy effect which is then sheared to give it that mole skin effect.
In France, workwear has been developed at the end of the 17th century as a reaction to the evolution of the industry. Clothes were made of cotton fabrics woven in different ways such as velvet, satin and moleskin. Adolphe Lafont had the idea of creating clothes adapted to each profession.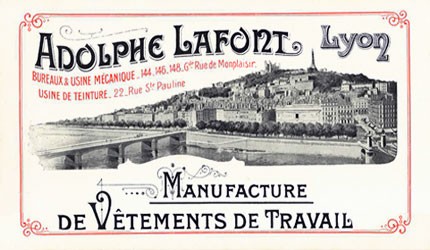 Care instructions :
Machine wash in the normal cycle at 60°
Bleaching (chlorination) prohibited
Tumble drying allowed at normal temperature 80°C
Iron at a maximum iron sole temperature of 200°C.
Dry cleaning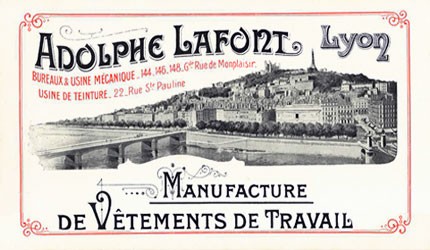 LAFONT SIZE GUIDE
TROUSERS, OVERALLS, JACKETS
 Size 
Point Lafont  
universal size
Chest
waist circumference (cm)

 hips circumference (cm)

36
0 
XS

81-84

69-72

 

85-88

38
0
XS
85-88
73-76
89-92
40
1
S
89-92
77-80
93-96
42
1
S
93-96
81-84
97-100
44
2
M
97-100
85-88
101-104
46
2
M
101-104
89-92
105-108
48
3
L
105-108
93-96
109-112
50
3
L
109-112
97-100
113-116
52
4
XL
113-116
101-104
117-120
54
4
XL
117-120
105-108
121-124
56
5
XXL
121-124
109-112
125-128
58
5
XXL
125-128
113-116
129-132
60
6
XXXL
129-132
117-120
133-136
62
6
XXXL
133-136
121-124
137-140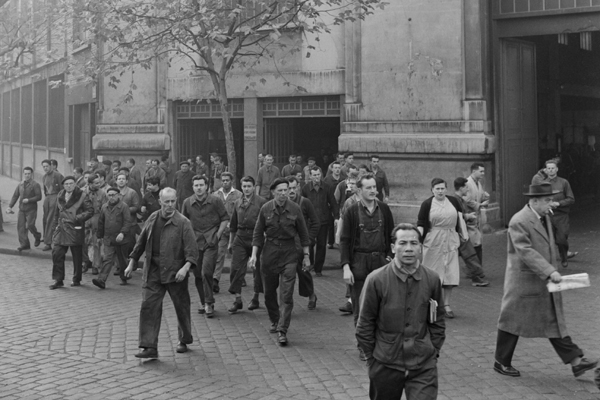 Blue for metalwork, black for wood, the color codes of these clothes are anchored in the tradition of the Compagnons du devoir, charged with symbols and with the ability of transmission of know-how. Its shape really comes from the "largeot" of the carpenters, and Adolphe LAFONT, based in Lyon, still makes it nowadays in a lighter version, for the workers. 
In the common sense, blue workwear is still the textile and emblematic heritage of the French workers' world, it has even become a generic term that refers to jackets as well as overalls or work trousers. It appeared in the 19th century, in a France which was still the cloth manufacturer of Europe and supplied the workers of the industrial revolution, before the British and the American became leaders in the world.
French industry was also experiencing a radical change and the rise of this new working class. This working class is bringing all the nobility of the craftsmanship that has preceded it and the seeds of a new ideology that will mark the era for a long time.
Coated cotton is a very thick, tightly woven cotton fabric made to protect the worker from melting metal and sharp machines. Trousers, just like jackets, are designed for a specific use. To find them in their original design at deTOUJOURS is the perfect way to benefit from all the advantages of the technology not compromised by fashion: first of all pockets, gusset pockets, Italian style, a ruler pocket, a buttoned revolver pocket, but also a metallic hook to close the trousers in combination with the button, a button zipper, and double-thread stitching to last a whole lifetime .... Even if it's no longer at the factory. 
Indeed, it is often trade unions that ask to have these garments maintained and paid for by the boss, sometimes this uniform is stigmatising, sometimes it is a source of pride for these new industrial professions, but thanks to its efficiency and durability it conquers the others professions out of the factory. It is the symbol of a whole social class that has become the epitome of Marxist and contemporary philosophy.
It became an ideological garment because it was a symbol, and for those who want to speak from the worker's point of view, the clothes do make the man, dictatorships knew how to remember it when illustrating their propaganda with these archetypes of labour. 
When, after the destruction of a generation on the front lines of the First World War, people thought about the modern man, from architecture and politics to fashion, the practical and simple solution of work wear became an industrial aesthetic synonym of modernity.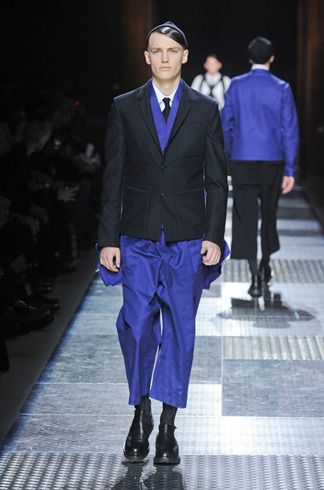 Unisex, jacket, overalls or trousers appeal to women who came to the factory while the men were at the front, they saw this new look as an avant-garde. It was also used by artists and it became a common uniform in art studios 
Coated cotton trousers are close to denim trousers, their work origins, their blue. It is the American culture that gave those jeans a more young and rock'n'roll look and has influenced the whole world.
In Paris in 1968, the blue workwear was also exported from factories to college. The students have appropriated it, as a form of solidarity with the workers' demands. It became a symbol of protest but also a reference to the intellectual student life of the Saint-Germain-des-près parisian district and the area around the Sorbonne. 
Full of legends, from the work to its ideological or even artistic memories, the black or blue coated coton trousers have been glorified by hordes of elegant people, nostalgic of a late 19th century look, first of all the Japanese and the English who know what French workwear means in the history of style, even before the French realized it was a treasure.
Worn away, it takes on unique shades as time is passing by, and when new its glossy texture gives it a precious look, even if it was made to be dirtied in the workshop. 
Later it was reinterpreted by great fashion designers, and fashion but the street came first.